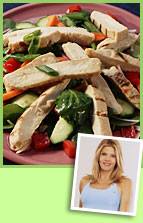 Want to try a really good salad that has a lot flavor?!  Then you have to try out the Spinach Salad with Turkey recipe by Kathy Smith!  Let me know how you like it!
Spinach Salad with Turkey
Kathy Smith
Spinach Salad with Turkey
8 oz. washed leaf spinach, stems removed
1 small red onion, finely sliced
1 tomato, diced
1 cup fresh mushrooms, sliced
12 oz. cooked turkey breast meat
1/2 cup Dressing:
4 Tbsp. orange juice
2 Tbsp. red wine vinegar
2 tsp. olive oil
1-2 small garlic cloves, minced
1/4 cup grated Parmesan cheese
Whisk together all dressing ingredients and set aside. In a large bowl, combine all salad ingredients. Drizzle dressing on top and toss gently. Serves 4.
Preparation Time: 15 minutes
Nutritional Information: (per serving)
Calories: 193
Protein: 22 g
Fiber: 2 g
Carbs: 12 g
Fat Total: 8 g
Saturated Fat: 2 g