Item #: BCPRB160
You'll save $30 with this bundle compared to buying each item separately. That means when you buy the Shaun T Dance Pack with Shakeology in this Challenge Pack, it's like getting both Hip Hop Abs® and Rockin' Body® for $10!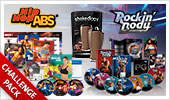 You can get twice the amazing results by shakin' it double-time when you purchase the Shaun T Dance Challenge Pack with Shakeology! Shaun T's two high-energy dance workout programs, Hip Hop Abs and Rockin' Body, give you great moves, great tunes, and great variety to help you burn calories and lose weight. Plus, you'll dance your way to even better results when you fuel up with Shakeology—the Healthiest Meal of the Day®!
Your Challenge Pack now includes FREE access to Beachbody On Demand, where you can instantly stream Hip Hop Abs and Rockin' Body and hundreds of proven Beachbody workouts as part of your 30-Day VIP Trial Membership to the Team Beachbody® Club.
Here's all you'll get:
Your first 30-day supply of Shakeology—the superfood protein shake that helps give you energy, reduce cravings, and accelerate your fitness results—delivered on Home Direct, our monthly autoship program.*
4 Hip Hop Abs routines, 5 Rockin' Body workouts, tools for success, and 13 free gifts.
A FREE 30-day VIP trial membership to the Team Beachbody Club, now with Beachbody on Demand, where you can stream Hip Hop Abs and Rockin' Body whenever and wherever you want and find the support you'll need to complete your Challenge.**†
Plus Super Discount shipping (and SAVE OVER $12) every month.
Choose your monthly autoship* Shakeology option. Bag = 30 servings; Packets = 24 servings:
Dance Your Way to Flat, Sexy Abs Without Ever Doing a Single Crunch or Sit-Up!
With the Shaun T Dance Pack and Shakeology Challenge Pack, you'll get a full month's worth of Shakeology together with two fitness programs that give you everything you need to dance off the pounds and sculpt lean, hot-looking abs, fast. Just Shakeology—Your Daily Dose of Dense Nutrition®—and ultra-fun dance workouts!
Your Challenge Pack Includes:
A 30-DAY SUPPLY OF SHAKEOLOGY—The Healthiest Meal of the Day®.*
You could spend more than $700 on supplements just to re-create all the healthy ingredients in one bag of Shakeology. But for only about $4 a serving, you can treat your body to the delicious daily superfood protein shake that helps give you energy for your workouts, reduces junk-food cravings, and may help you reach your fitness goals faster. A nutrient-dense combination of antioxidants, phytonutrients, adaptogens, and many other rare ingredients gives your body nutrients you can't get from a normal diet. 100% vegan option now available.‡
4 AMAZING HIP HOP ABS ROUTINES
Secrets to Flat Abs. TILT, TUCK, & TIGHTEN your way to gorgeous, sexy abs with Shaun's exclusive training technique.
Fat Burning Cardio. Groove to upbeat party music and learn the fun, easy dance steps that shed calories and burn fat.
Ab Sculpt. Use these signature next-level ab moves to carve out your ultimate six-pack.
Total Body Burn. Say goodbye to love handles, saddlebags, and jiggly arms as you sculpt your body from head to toe.
5 ROCKIN' BODY WORKOUTS
Mark, Move & Groove. Shaun will have you dancing and sweating with his breakthrough Mark It and Move It technique.
Disco Groove. Hit the dance floor and shake your groove thing in this off-the-hook workout guaranteed to burn some serious calories.
Party Express. Give Shaun T 25 minutes and he guarantees a workout—without sacrificing results.
Shaun T's Dance Party. It's a calorie-burning dance party in your living room.
Rock It Out. This rock-and-roll strength routine will shape, sculpt, and tone your new lean body from head to toe while it sends your metabolism soaring.
WITH TOOLS FOR SUCCESS
Hip Hop Abs Results on the Run Diet Guide. Using this quick guide, you can continue to eat at your favorite fast food restaurants, guilt-free.
Hip Hop Abs Step-By-Step Nutrition Guide. Choose the right foods to help you lose weight faster!
Hip Hop Abs 30-Day Workout Calendar. Freestyle your Hip Hop Abs workouts, or follow this schedule to get jaw-dropping abs and tone your entire body FAST!
Rockin' Body My Quickstart Guide. Just follow this simple workout calendar and you'll be on your way to your very own Rockin' Body.
Rockin' Body Never "Diet" Again Guide. This easy-to-follow plan shows you how to eat simply and healthy and is filled with Shaun's favorite meals and recipes.
AND 13 FREE GIFTS!
Hip Hop Abs 6-Day SlimDown. Lose up to 6 pounds in your first week!
Hip Hop Abs Hips, Buns, and Thighs Workout. Lift and firm those stubborn problem areas. No more boring squats and lunges—get back into your skinny jeans FAST!
3 Fun-Filled Hip Hop Abs Dance Workouts. Take It to the Dance Floor, Hip Hop Groove, and Last Minute Dance.
Rockin' Body 3-Day SlimDown. See visible results in just 3 days—GUARANTEED.
Rockin' Body Party Guide. Learn what to eat and drink at any party without breaking the calorie bank.
4 Bonus Hip Hop Abs and Rockin' Body Workouts. Last Minute Abs, Last Minute Buns, Hard-Core Abs, and Booty Time.
Measurement Card & Tape Measure.
24/7 Online Support. Access live chats with Shaun and an amazing online community to help you succeed.
FREE 30-DAY TRIAL MEMBERSHIP to the Team Beachbody Club with Beachbody On Demand!**†
When you're part of the Team Beachbody community, you have all the tools, support, and accountability you need to commit to a healthy lifestyle, including:
Streaming access to Hip Hop Abs and Rockin' Body: Instantly jump-start your fitness program and tap into hundreds of other digital workouts from our massive collection of world-class programs via any desktop, laptop, tablet, or mobile device!
10% discount on all purchases
Meal plans personalized for your goals
VIP access to your favorite trainers and Beachbody® experts, including live chats, exclusive videos, nutrition tips, and delicious recipes
Your own personal Coach for guidance and support
Message Boards and chat rooms to help you find new friends and workout partners, and get advice and support from the entire community
Your 30-Day Money-Back Guarantee
We're so sure you'll love this Challenge Pack, we're giving you our 30-day money-back guarantee. If you're not completely satisfied, simply call Customer Service to return it within 30 days for a refund of the purchase price (less any s&h).