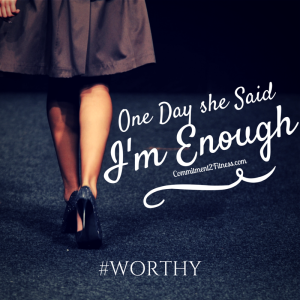 One Day She Said I'm Enough …
SON OF A NUTCRACKER. I've gained 20 pounds since my last annual appointment (yes, even after the 10 that I lost the last couple of weeks I've still hung onto 20). After a very open and honest conversation with my doctor I figured the same honesty may help some of you, too? So…here we go. Grab a glass of water—this could take a minute to get through.
Life is GREAT and I am ecstatic about my life changes this past year but those life changes had an effect on my health—and not all in great ways. It's weird to be ridiculously happy and yet depressed in the same breath.
We made the decision for me to go full-time Beachbody last June as I was making myself crazy trying to "do it all". My Beachbody business lifts my spirits and adds joy to my life—human resources and regularly disciplining and firing people did not. The choice was an obvious one—it was time for me to let go of what I've busted my ass to build a reputation and a career on and move onto a healthier mental state. I walked. I didn't look back and yet didn't pay attention to the emotional roller coaster that accompanied that decision.
We got married in July and I changed my last name. I did not give this enough emotional credit, either. I dismissed the darker emotions that came with those decisions. I had vehemently stated I was (a) not getting married again and was (b) not changing my name again. "I was born a Hanna and will die a Hanna" was my mantra. Then I fell head over heels in love and decided to do both. They were incredible decisions and I'm proud of both of them—but didn't allow myself to feel the weight of either choice. You see, sometimes there's bad stuff mixed in with the best of times. "It was the best of times. It was the worst of times…"
The last half of 2014 was a dark place for me and yet I didn't want anyone to know it so I stuffed it deep in the wormholes in my mind (not a good idea, by the way). I barely ate. My sleep was haunted by nightmares. I was drinking daily—and often during the day. I stopped exercising. I stopped communicating with friends as I didn't want them to see me like that. I drank minimal water. I gained weight. I was overwhelmed with the guilt at being a "fitness coach" and overweight. I ate even less food. I drank more alcohol. I drank more caffeine. I hid from all things healthy and trained my brain that food and people were bad and should be avoided. And then…one day I'd had enough.
I'm a "pull myself up by the bootstraps" kinda gal and knew that I had gotten myself into this mess and therefore could get myself out. But not without some really uncomfortably honest conversations with myself, loved ones, doctors—and now you. I'm enough.
I'm down 10 pounds. I'm hand-in-hand with God. I'm eating real food. I'm drinking FAR less booze and caffeine. I'm drinking more water. I'm exercising more often. I'm fully participating in my life again AND IT FEELS GREAT. I'm enough.
I've still 20 pounds to lose—but my mind is right and I'm doing the right stuff. When I asked the doctor if she had any recommendations for me other than eat often, move more, and drink more water her reply was, "No."
There is no magic pill, friend. There is no easy button.
But there is hope. There are choices. You can do this. You are worth it.
I'm enough. I'm here and would love to help you if you can handle my honesty and the kick in the ass that this journey often requires. You in?