A healthier homemade macaroni and cheese was needed in our family. Needed. I have sons that devour it and I needed a quick on-the-go meal so we found a recipe for healthier homemade macaroni and cheese that would suit all of our needs. Here's what we modified/created and I hope it blesses you and your family:
INGREDIENTS:
1 (16-ounce) package of whole wheat macaroni (we can't get that here so we used Ronzoni Smart Taste macaroni as that's the healthiest we can get)
2 Tbs butter (we use an English unsalted butter or Kerrygold Irish butter when we can find it) *I don't recommend margarine*
2-1/2 Tbs whole wheat flour (or all-purpose)
2 c shredded low-fat Cheddar cheese (we opted for fat-free)
1/2 c grated Parmesan cheese
3 c low-fat milk (we use milk from Shetler Dairy Farms that comes from grass-fed cows with no chemicals added–a local farm near us and I LOVE serving it to the boys).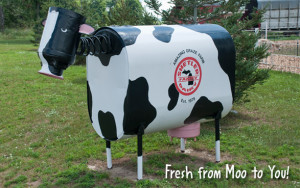 TOPPING:
2 Tbs butter (see above)
1/2 c whole wheat bread crumbs
1 pinch of paprika
DIRECTIONS:
Preheat oven to 375 degrees F. Bring a large pot of lightly salted water to boil (we use Pink Himalaya Sea Salt). Cook macaroni in boiling water, stirring occasionally, until coked through but still has a bit of texture (firm). About 8 minutes. Drain.
Melt 2 Tbs butter in a saucepan over medium heat. Stir in flour. Slowly add milk-stirring constantly. Stir in cheeses and cook over low heat until it's thick and melted (about 3 minutes). Place macaroni in a large baking dish (we used a glass 9×13 pan) and pour sauce over macaroni. Stir well.
(for the Topping) Melt 2 Tbs butter in a skillet over medium heat. Add breadcrumbs and stir until the butter has soaked into the crumbs (2 to 3 minutes). Spread it on top of noodle/cheese mixture and then sprinkle with Paprika.
Bake until cheese sauce is hot and breadcrumbs are browned (about 30 minutes)
This healthier homemade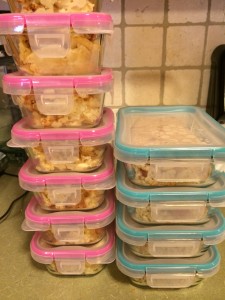 macaroni and cheese recipe (modified/adapted from allrecipes.com) has approximately 700 calories and  is divided into 4 servings (175 per serving) and we broke it into 8 servings (at approximately 90 calories per serving). You can ditch the bread crumbs and lighten the cheese (if you are really concerned but…). It took less than an hour to prep and cook and cost us about $10 total for the whole pan.
We store it in one-cup Pyrex glass dishes that can go from the freezer to the oven and are dishwasher friendly (the pink ones pictured here).  Storing it this way allows me to grab-and-go and I am far less likely to skip meals knowing I have this alternative that isn't going to blow my calorie intake for the day. Enjoy!